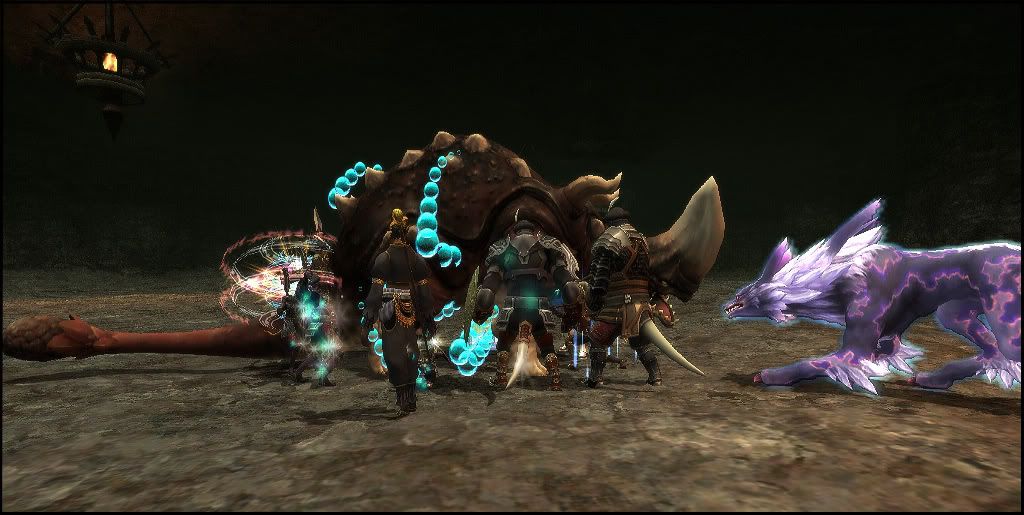 Yes, Einherjar is about a week old now. I missed the Einherjar run Apathy did after the update last Tuesday though, Tuesday's being my night out with some friends to play MtG. So I caught a run we did on Saturday.
I had been reading up on it as people were posting information, so I kinda knew what to expect. We had about 30 or so people who came and it was planned to Chainspell Stun and SEBWKC the boss. I didn't think it would be that great of an idea from what I read, but I didn't voice it. It was worth a shot to try so we would know in the future.
So anyway, we entered Rossweisse's Chamber and got about 6 Buggard-X and Nihhus, the Wivre boss. Buggards weren't a problem. I had my free Fenrir out and watched for the random Bird/Tiger while the others took out the Buggards. We got a Tiger somewhere around the last two Buggards and killed it. No message, no chest.
The boss was pretty.. interesting. I had mentioned about the high HP and stupid high defense of it's horn and to stay along the sides. I also mentioned how I didn't think SEBWKC would do much, so we kinda hesitated. I believe around 60% or so all the DRK let loose the SEBWKC which failed.. miserably. I think overall it took about 6% from it.
In the end we killed it with 5 minutes left. Nothing but normal Wivre drops; tail, horn, hide.
Overall it's like Dynamis meets Limbus with an HNM, but only lasts a half an hour. It's quick, kinda fun, and can give great rewards... sometimes. Was enjoyable, I mean seeing a Wivre flail and kill a few people.
---
In other news, I'm back up and running. I've got a working copy of Adobe Photoshop, for now till the trial runs out. Still lost a lot of great screenshots in the reformat, but hey.